Wolfplex graphics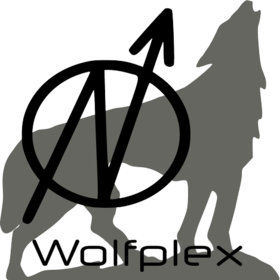 I coordinate with the help from Dica the Wolfplex graphics communication and maintain the corporate identity.
This is espacially challenging in an do-it-yourself and do what the fuck you want environment.
Core meta project logo
The current logo were imagined as a temporary logo, like Wolfplex were a temporary namecode.
The wolf is both a lone and a social creature, like the hacker or counterculture member who wish to stay alone but sometimes wish also to meet other people.

The N circled with upper arrow is one of the two symbols used by the occupation internation movement.
Wolfplex were first imagined as a squat.

The font is Neuropol X.
I'm currently working on a new logo with original artwork dropping the squat reference, but adding values of alternative counter-culture, openness and tolerance.
Other realisations
Useful links